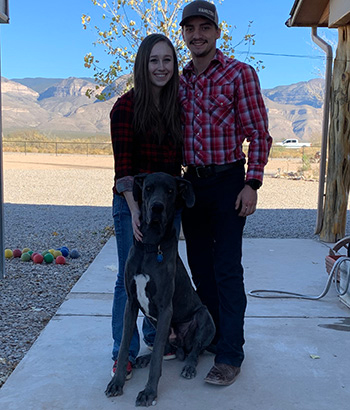 Brandee Cunningham, a wildlife and fisheries science major at Eastern New Mexico University, dreams of becoming a game warden managing wildlife populations and being able to "support my family, travel and enjoy life doing what I want to do."
She believes studying wildlife and fisheries science at Eastern will allow her to "get a better opportunity to get the job I want in the future, and it will give more information to be efficient in the job I want."
She decided to attend ENMU because "the program here in my area of study was one of the best in New Mexico, and it was a smaller school compared to the other options."
The Wildlife and Fisheries Science Club member's favorite aspects of life as a Greyhound include the "opportunity to excel in learning and knowledge, and also getting to meet new people from all over the world."
Brandee, whose mentors at the Eastern include Dr. Jesse Filbrun and Dr. Ivana Mali, advises students interested in her major to "make sure you take the classes you need to and stay on top of your studying because you will learn a lot and use all of it as you go further into this degree. It is not going to be easy, but it is worth it once you finish."
The dean's list honoree's favorite class at ENMU so far was ecology because she "gained a lot of knowledge, and my professor helped me stay on track."
Her go-to spot at the University is the Golden Student Success Center (GSSC), where she meets with friends to do homework or hang out in the private rooms and cubbies.
Brandee was born in Ruidoso, New Mexico, and raised in Alamogordo, New Mexico. She has a younger brother, John, and an older sister, Breanna. Her mother, Angie, is an educational assistant going to school to become a teacher, and her father, John, is a refrigeration technician.
The sophomore's hobbies include wood burning, hunting and camping.
(L-R) John, Breanna, Brandee, Angie and John.